It's official. Apple is planning to release the iOS 12.1 update on Tuesday, Oct. 30. Available for iPhone and iPad, the update includes Group Facetime and over 70 new emoji and arrives on the same day Apple's holding its "There's more in the making" event in Brooklyn, New York.
Group FaceTime
First introduced at the Worldwide Developers Conference (WWDC) in June, Group FaceTime allows up to 32 users to make a FaceTime video- or audio-call at the same time.
Using on-device intelligence, Group FaceTime automatically displays the most prominent speakers on a call and puts the active speaker at the forefront. The size of each person's image is determined by the duration of speech, volume, and motion. Participants who are not active will appear at the bottom of the screen until they speak. A simple tap also brings a participant front and center.
Group FaceTime won't be available in all regions. Additionally, older devices such as the iPhone 5s, iPhone 6, and iPhone 6 Plus, aren't compatible with the video calling feature. Instead, those devices can only make audio calls.
ARTICLE: Apple releases iOS 12.1 iPhone user guide.
New Emoji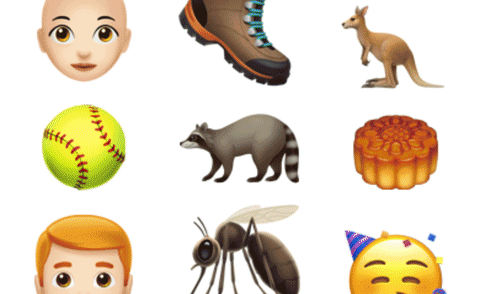 The new emoji being introduced in iOS 12.1 include new characters with red hair, gray hair, and curly hair, and one for bald people. There's also emotive smiley face and additional emoji that represent animals, sports, and food.
Dual SIM
With Dual SIM, users on the iPhone XS, iPhone XS Max, and iPhone XR can activate an additional cellular plan from a carrier without having to use a physical nano-SIM.
Depth Control in Camera
Finally, users of the iPhone X and later can now dynamically adjust the depth of field in a real-time preview in the Camera app when using Portrait mode. The feature already works on iPhones with a TrueDepth camera for Portrait images that have already been taken.
When will iOS 12.1 be released?
Apple typically releases software updates at 10 a.m. PDT. You can find the update by going into the Settings app on your device under General > Software Update.
Tomorrow's Apple event is scheduled to begin at 10 a.m. EDT with live streaming available on the Apple website, through Twitter, and in the Events app on Apple TV.
Besides iOS 12.1, Apple's likely to release tvOS 12.1 and watchOS 5.1 tomorrow as well. These updates include bug fixes only.