Traveling has long been a nightmare especially when airports are involved.  New technology could eventually end one of the biggest headaches of this type of travel: having to remove items such as laptops and iPads from our bags during the security check.
According to American Airlines, it's testing new 3D scanning technology through a collaboration with the U.S. Transportation Security Administration (TSA). The scanner currently at the Terminal 8 security checkpoint at New York's John F. Kennedy International Airport (JFK) replaces the 2D scanners being used at airports worldwide.
With 3D scanning, items no longer have to be removed from bags. Instead, the TSA agents can tilt and rotate the scanned image using a tablet to see all the objects in the bag.
As the airline explains:
Because CT technology is three dimensional (3-D), this new checkpoint technology has the potential to provide better visibility and allow the operator to rotate the bag's image 360 degrees to show the contents of carry-on items at every angle. CT provides the capability to virtually see beyond unwanted clutter and greatly enhances the ability to visually inspect the contents of carry-on bags for explosives and other prohibited items.
Electronic devices aren't the only items we could someday keep in our bags. With CT technology, airports could eventually allow you to leave liquids, gels, and aerosols, in your carry-on bags at all times.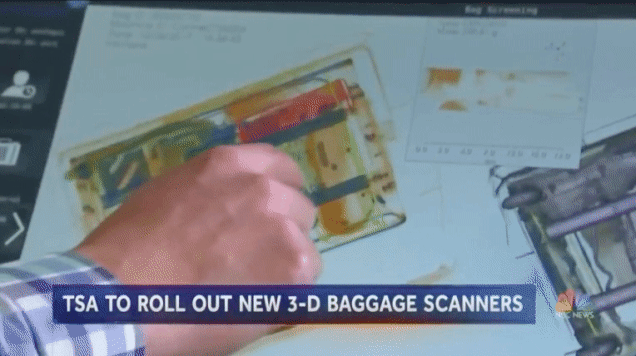 Not surprisingly, it could be a while before this type of technology comes to every airport in the United States and the world. A TSA spokesperson told CBS News it could be five years before CT technology goes mainstream.
TSA expects the new CT technology will begin operation at JFK in late July. CT technology is also being tested at airport security checkpoints in Phoenix and Boston.
Photo by Irfan Khan/Los Angeles Times via Getty Images